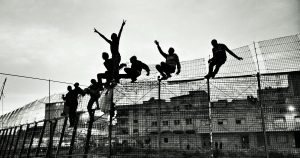 The Open assembly of squats, collectives, internationalists, migrants and solidarians" was formed at the end of August 2019 following the evacuation of the squats Gare, Spirou Trikoupi 17 and (attempted evacuation) Rosa de Fog in order to resist to the plans of the state and government for a general attack to squats and spaces of struggle.
.
We perceive these attacks as part of a more general plan of the state for looting not only the movement's structures but our very own lives, through our increasing exploitation from bosses, the suppression of migrants, our displacement of our neighborhoods due to tourism and all kinds of gentrification, the destruction of nature for the benefit of development plans and business interests.
In the face of this, we respond that the class of oppressed and people in struggle can live and organize their lives without the oppression and exploitation of the state, capital, and patriarchy. Collectively organized into communities, neighborhood assemblies, and grassroots unions, with solidarity and self-defense structures, we can draw multiple strengths, resist, and brake the machines of social submission.
Let's not forget that all power and knowledge is in the hands of the exploited, and, together with the desire for creativity and freedom we can shoot for the sky.
Our assembly meetings are open and take place every Tuesday and Friday at technical university (POLITECHNIO) Gini building at 19.30.